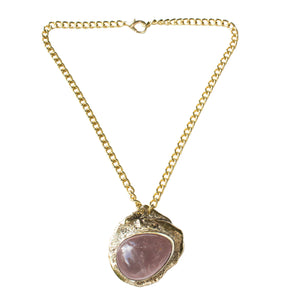 A rose quartz stone necklace with melted brass.
Collection: MELTDOWN.
Material: Brass, chain and  rose quartz.
ROSE QUARTZ
is a crystal that is usually a bit more milky rather than transparent and more or less pink. All stones are unique. Rose quartz initiates love for ourselves.
It provides calm and emotional reassurance.
It connects the spiritual dimension with love and attracts love without conditions and requirements.
Manufactured to order.
The Pink Depression Charm is handmade by the designer Jennie Rhönnstad. All pieces are unique.
Delivery time: 2 weeks.